It's been on your mind for months, you have been planning it in your head for even longer, and your 'big day' is now finally here! It's the day when you are treated no less than a celebrity and everything revolves around you, making it a memorable milestone moment in your life. While the celebrations are a lot of fun, a wedding can be a hectic affair with a hubris of activity around the bride and groom-to-be. If you are getting hitched and are being bombarded with advice on what to eat on your 'big day', we have just what you need.
Brides and grooms are often told to go on a 'liquid cleanse' and avoid eating entirely on their big day. However, nutritionists and experts would argue that this is not advisable. Rather than resorting to crash diets and one-day fads, it is better to eat specific foods and follow certain diet tips.
(Also Read: 5 Tips To Avoid Overeating During Shadi Season And Avoid Bloating)
"To stay healthy and energized on your big day, it's important to follow a balanced diet that includes a variety of fruits, vegetables, whole grains, lean proteins, and healthy fats. Avoid crash diets and processed foods that are high in sugar and opt for whole foods that are packed with nutrients," said Rinki Kumari, Chief Dietician at Fortis Hospital, Cunningham Road, Bangalore.
This is the ultimate guide for brides and grooms on how to plan their meals on their wedding day. Here's what to eat, what to avoid and some diet tips that may prove to be useful.
What Do I Eat On My Wedding Day?
The idea is to eat simple, light and healthy meals that will replenish your energy levels and keep you going through the day. There are certain foods that will make you feel fresh and also help get healthy and glowing skin to make you the star of the event. "Snack on dark chocolate, strawberries, cucumber sticks, apples, pineapple slices. Boiled eggs are the star here," suggested nutritionist and macrobiotic health coach Shilpa Arora.
"Stay hydrated by drinking plenty of water throughout the day, and incorporate superfoods like avocado, nuts, berries, and leafy greens into your diet for an added boost of energy," added Kumari.
(Also Read: 11 Diet Tips Every Bride-To-Be Must Follow For Weight Loss)
What Should I Not Eat Before Getting Married?
It is best to avoid heavy foods and calorie-laden treats on your big day. Brides- and grooms-to-be should remember to eat small meals throughout the day, rather than bingeing on a single heavy meal. "It's a busy day. Eat small meals. As you don't want to look bloated, keep a low-sodium diet," said Arora. Also, avoid processed food, sugar and refined carbs as much as possible to keep digestive issues at bay.
Diet Tips And Tricks To Keep In Mind For Your Big Day
1. Don't Skip Meals
No matter how busy you may be, it is best to keep eating small meals throughout the day. Experts advise against skipping meals as that would lead to hunger pangs, fatigue and stress. Snack on fruits, vegetables, nuts and more. "Make sure to have three balanced meals a day, with healthy snacks in between if needed, and avoid skipping meals," shared Kumari. "Eat fruits for breakfast as they will keep you hydrated and energised. For lunch, have a grilled veggie with tofu or chicken," suggested Arora.
(Also Read: Wedding Diet Tips: 5 Unfriendly Foods For Brides)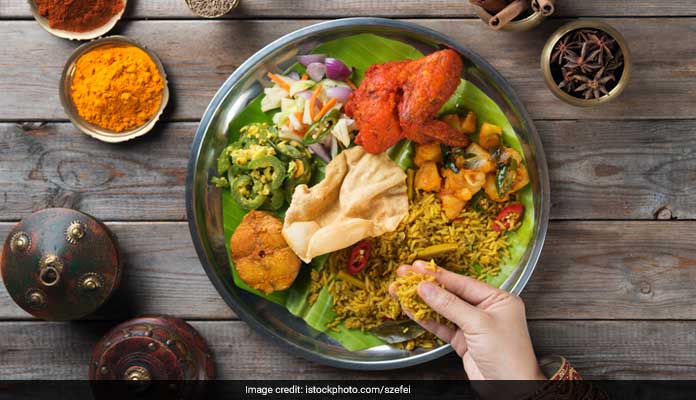 2. Stay Hydrated
It is essential to keep drinking water and keep yourself well-hydrated. This will keep your energy levels replenished and your skin glowing too. Coconut water, lemonade or jaljeera could be great options to include in your diet on the wedding day. "Limit your caffeine and alcohol intake, as too much of these, can dehydrate you and leave you feeling tired," suggested dietitian Rinki Kumari.
3. Snack Healthy
Small snacks such as almonds and cashews could prove really beneficial for brides and grooms to be. This is because they are nutrient-dense foods that would supplement your meals and keep you going for long hours with a smile on your face!
(Also Read: Viral Video: Bride And Groom Sign Marriage Contract With 'Foodie' Conditions)
4. Avoid Bingeing
All that good food may be tempting for you as a bride or groom, but it's best not to binge on your wedding day. This is because bingeing on food may cause bloating or acidity and hamper your wedding celebrations. Eat small meals and practice portion control as much as possible.
5. Don't Experiment
Of course, it's your wedding day and you want everything to go just right. Ideally, experts would suggest not experimenting on your big day, especially in terms of food. As a precaution, eat the foods you are used to eating and do not go overboard or adventurous with your food choices.
In case of any doubts about what to eat on your wedding day, it is best to consult a qualified nutritionist or dietitian. Everyone's body clock and eating patterns are different. But remember to smile and do not stress too much. Relax and enjoy your day with loved ones by your side!
Featured Video Of The Day