Indian cuisine never fails to fascinate us. Be it in terms of comforting meals, celebratory foods or refreshing drinks, it gives us never-ending options to choose from. So much so that we at times think it is impossible to understand all of Indian food culture in one lifetime. Take the drink lemonade for instance. Popularly referred to as nimbu pani, it is simply a cooling beverage made with lemon juice, sugar and salt. Now, if you start exploring, you would find it has countless variations in different regions. In fact, in every house you visit, you would find it tasting different from the other. Why? It is because we love experimenting with food and drinks and the ingredients used to make them our own.
As summer is upon us, currently we are in search of cooling beverages to give us some relief from the extreme heat outside. While the classic shikanji, aam panna, chaas etc always rule our hearts, we love having new additions to the list. One such drink that we tried and relished recently is panaka – a popular South Indian lemonade/nimbu pani, made with a dash of saffron.
Also Read: How To make Nungu Sherbet: Try This South Indian Drink Before Summer Ends
What Makes Panaka A Popular Drink In South India?
Panaka or Panakam is considered the go-to summer cooler in the Southern region of India. To understand it, you need to first know the ingredients used in panakam. A quintessential panaka/panakam includes lemon juice, jaggery and dry ginger, all mixed in chilled water. Each of the ingredients contains various essential nutrients that help benefit our overall health, along with maintaining water balance in the body. People also add different other ingredients to enhance the goodness and flavours of panaka. Some add camphor, while some mix a pinch of cardamom powder or black pepper powder to the drink. We got you the version that includes saffron.
According to food wizard Ashwin Rajagopalan, although this beverage has a strong association with Ram Navami, it is widely served in the regions of Tamil Nadu, Andhra Pradesh and Karnataka throughout the summer season. He also mentions, "Ancient science will probably tell us that Panakam was used as an Oral Rehydration Solution (ORS), especially in parts of south India where the humidity and excessive sweating saps the body of fluids and salts."
How Saffron Elevates The Goodness Of The Classic Panakam?
As mentioned, panaka makes for a cooling drink that helps you stay hydrated during the summer season. Adding a few strands of saffron to it increases the goodness of the drink by leaps and bounds, especially for your skin. How, you ask? According to health experts, saffron contains antioxidants and anti-inflammatory properties that help prevent oxidative stress on your skin cells. During the summers, having saffron in the right amount may help prevent acne and pimples and keep it nourished and moisturized naturally.
Also Read: Health Benefits Of Saffron Water: How Kesar Ka Paani May Help Promote Skin And Health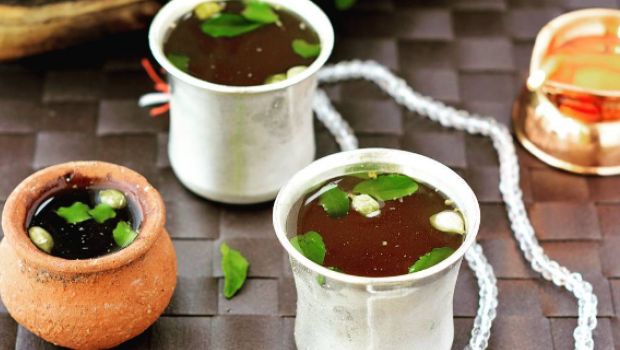 How To Make Saffron Panaka | South Indian-Style Saffron-Lemon Drink Recipe:
The recipe is super simple. All you need to do is, mix some dry ginger, saffron and elaichi powder (optional) in water and let it rest for some time. Then add jaggery powder and mix. You may replace jaggery with plum sugar or mishri. Once all gets diluted, mix some lemon juice and serve. Click here for the detailed recipe.
Unlike the fizzy drinks that are best enjoyed when chilled, you can have panaka at room temperature too. If you ask us, we like storing the drink in an earthen pot for natural coolness and earthy aroma.
Try the drink before the season ends and trust us, you will fall for the amazing flavours instantly.