Have you been staying abroad for long? Are you missing 'ghar ka khana', made by your mothers? Did you fail to replicate that home-cooked goodness due to the lack of ingredients? If you answered yes to any of these questions, then dear reader, you are just at the right place! In this article, we have spilled some amazing tricks that will help you recreate some delicious Indian recipes with the available ingredients in your kitchen and the local grocery stores. While we can't promise your mom's magic on the plate, these recipe ideas will surely remind you of home instantly. All you need to do is, scan through the ingredients and pick the right one for convenient cooking, with a relatable taste. Sounds exciting? So, grab a paper quickly and note down the hacks given below.
Also Read: Beginner Cook Or A Bachelor – Everyone Can Make Perfect Chicken Curry With These Tips
Cooking Without Desi Ingredients: 5 Unique Takes on Indian Recipes:
1. Broccoli recipe | How to make tandoori malai broccoli:
Broccoli is one of the most common ingredients available worldwide. It is nutritious, uncomplicated, and versatile to the core – a basic search on the internet will bring you a long list of broccoli recipes to try at home. Fret not, we won't talk about sauteed broccoli, broccoli soup, or any such recipe; instead, we got you an option that is loaded with desi flavours – it is the delicious tandoori malai broccoli. You heard us. This broccoli recipe includes yogurt, fresh cream, ginger, garlic, cumin, and some common ingredients, and of course, broccoli! So, take out your barbecue setup and make this delicious snack for your friends and family. Click here for the tandoori malai broccoli recipe.
2. Zucchini recipe | How to make zucchini chutney:
The next ingredient on the list is zucchini. Love it or hate it, you just can't ignore the goodness of this humble vegetable. Here, we will share a delicious zucchini recipe that is flavourful, desi, and can be easily sneaked into your meal. It is the zucchini chutney. Much like pachadi, it is a fresh chutney made with some basic ingredients like ginger, garlic, sugar, and salt amongst others. You can pair it with rice, roti, or paratha, or use it as a spread for your sandwich. Click here for this delicious zucchini recipe.
3. Eggplant recipe | How to make stuffed eggplant (bharwan baingan):
Eggplant, or as we call it baingan, is commonly available in most parts of the world. And guess what, you can curate a long list of eggplant recipes with ingredients available at home. One such instance is this desi-style stuffed eggplant recipe, which Indians fondly refer to as bharwan baingan. The best part is: you can prepare the stuffing with whatever spices are available in your kitchen. Here's a stuffed eggplant recipe (bharwan baingan) for your reference.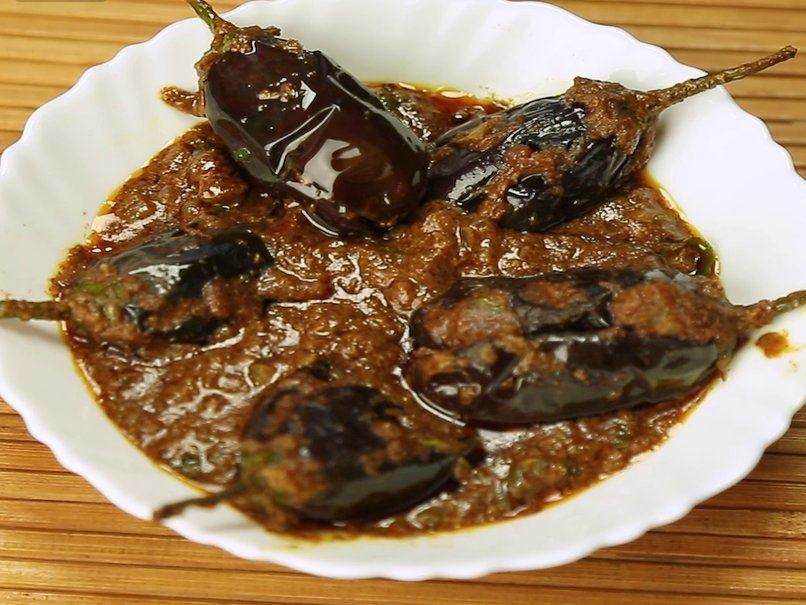 4. Potato recipe | How to make aloo jeera:
How can we not mention potatoes on the list? Potato spells comfort, versatility, and indulgence. We got you the simplest potato recipe that you can enjoy in more than one way. It's the humble aloo Jeera. All you need to do is, boil potatoes, saute with cumin and some basic spices – and in no time, you have a delicious potato curry ready to be relished. You can have it with rice, roti, and dal, or wrap it in paratha for a delicious aloo roll. You can also use it as a filling for a quick morning sandwich. Click here for a simple aloo Jeera recipe. Also, find here the ways to enjoy this humble potato recipe.
5. Kale recipe | How to make kale palak paneer:
Have you been avoiding kale for the longest? If yes, then not anymore! We got you an amazing hack to include kale in your diet – add it to your delicious palak paneer. Get a bunch of fresh spinach, a block of cottage cheese, some fresh cream, and a few spices; alongside add a bunch of kale to the mix and prepare yourself a nutrient-rich palak paneer for the next meal. Quite an interesting kale recipe; isn't it? So, what are you waiting for? Make this Indianised kale recipe at home and indulge. Click here to know more. 
Prepare these Indian recipes with the ingredients available around and enjoy! Do let us know which one you picked first!